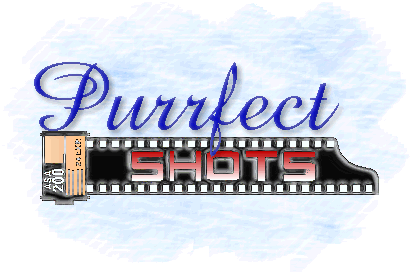 With over
Catz served!
Are you looking for that extra-special portrait of yourself for your cyberspace? Then look no further, Purrfect Shots will make it happen for you!

Please take a seat. Chessie, your hostess, will be with you shortly.
Hello, I'm Chessie. I am your hostess at Purrfect Shots. Allow me to show you around our studio.

For your photo session, we have a wide selection of props and backdrops to choose from. Our skilled makeup artists will transform you with various costumes, and finally our image artist will capture your "purrfect" look! I am certain you will love the result!
| | |
| --- | --- |
| Before you go into the photo studio, you'll need to choose some props and backdrops for your shoot. Don't forget to pick out a costume and have our makeup artists make you over in the makeup room! | |
Chloe is ready for you in the studio. Please go right in.


Some furniture provided by

Purrfect Shots brought to you by
LinkExchange Member

Lisa D. Jenkins / ajscatz@bigfoot.com